Hello, Summer! Here on the Texas Gulf Coast, the thermometer reaches 95° before noon every day. Factoring in humidity, it feels like 105°! Knowing how to stay hydrated with temps & humidity this high can be a challenge.  When the body needs water our brains send a signal – you need a drink! This essential survival mechanism maintains fluid balance.
Ideally, you should be drinking throughout the day. Finding a water flask you love to drink from and keeping it on hand is a great strategy to employ. Even with the super-sleek containers available today, most people don't drink enough water. This is important to understand, as every process in the body requires water (you can read more about that here!) Not enough water means more than dehydration. Kidney stones, loss of cognitive function, constipation, and fatigue can all be related to poor fluid balance.
We love you, water, but sometimes we're looking for something a little less…meh. Sure, a lemon wedge is always nice, but some days we need more. Using this simple formula will transform your water from Meh to More, and help you stay hydrated this summer.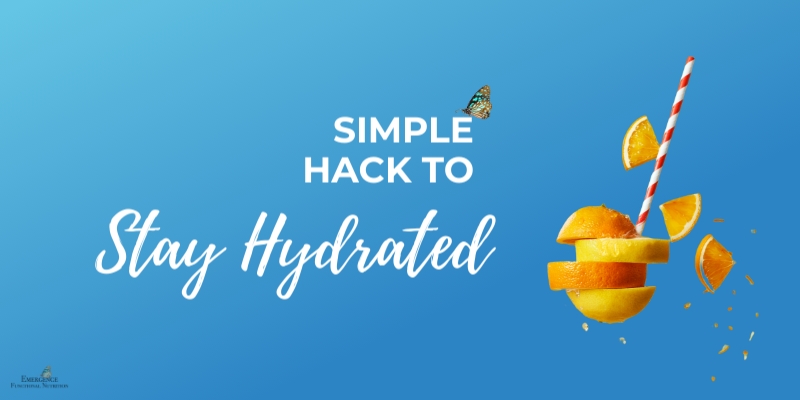 *This post contains affiliate links. If you purchase a product recommended, I receive a small commission at no extra cost to you.*
MUDDLED FRUIT + HERBS + LIQUID BASE + CITRUS + ADD-INS
MUDDLED FRUIT: Soft fruits work best. A drink muddler is meant for this task (the kind they use to muddle fruit in glasses for mojitos) but you can also place fruit in a bowl and break it up with a fork or use a mortar and pestle to gently break apart fruit. Adding the fruit directly to your water flask & muddling with a firm, reusable straw also works in a pinch!
Fun Fact: snacking on juicy fruits (citrus, melons, pears, peaches, etc) can help you stay hydrated!
Berries
Ripe nectarines or peaches coarsely chopped
Pitted cherries
Watermelon
Melon
HERBS: Here are a few of our favorite combinations – just chop coarsely and muddle with fruit before adding liquids.
Mint + Watermelon or Strawberry
Basil + Peach
Rosemary + Grapefruit
Sage + Blackberry
Lemon verbena + ANYTHING!
Cilantro + Lime + Honeydew
LIQUID BASE: Go for color and flavor.
Herbal Tea – We love hibiscus for its gorgeous color and rich flavor. Steep four bags in a cup of boiling water to increase the density of flavor. Our favorite brand is Republic of Tea.
Green Tea – Everything from matcha  to yerbé mate, it's all good. Be sure to select caffeinated varieties as the health-promoting flavonoids are destroyed during the decaffeination process.
Lemon Tea – Add the rind from a lemon to 2 cups of boiling water. Simmer for 5 minutes then let sit to infuse.
Ginger Tea – Peel and coarsely chop 2" piece of ginger and bring to a boil in two cups of water. Simmer for 5 minutes then let sit to infuse.
CITRUS: Squeeze in to finish and add some slices for visual impact.
Lime
Lemon
Orange
Grapefruit
ADD-INS:
Splash of sparkling water – Everyone loves a little fizz!
Cucumber – Nothing screams refreshing like cucumber! Just peel and process in a blender to purée. About 1/2 cucumber per drink works.
Chia seed – Add chia seed to make a Chia Fresca! This seed holds more than 30x its weight in water and can help maintain hydration long after you have emptied your glass. Chia can also help alleviate constipation and help reduce insulin resistance. Start by adding 1 teaspoon to your glass and stir well. Let sit for 10 minutes before drinking.
Stevia, monk fruit, or a touch of unfiltered local honey for added sweetness
For inspiration, start with these delicious recipes:
Cilantro-Lime Melon Cooler: honeydew + cilantro + matcha green tea + lime juice + cucumber
Ultimate Aqua Fresca: strawberry + mint + hibiscus tea + lime + sparkling water
Fuzzy Peach-Basil Chia Fresca: peach + basil + peach green tea + lemon + chia seed
Blackberry-Sage Cooler: blackberries + sage leaf (a single leave will do!) + berry green tea + sparkling water
Citrus Rosemary Refresher – nectarine + rosemary (just a few leaves with stem for garnish) + green tea + grapefruit + cucumber